Krav Maga Classes In Ogden
Learn Real-World Self-Defense For Any Situation In Our Krav Maga Classes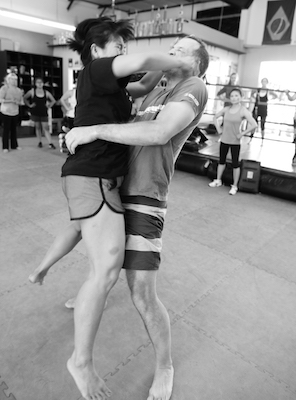 If real-world danger crosses your path, will you know how to react? At Victory Self Defense & Fitness, we're helping everyday men and women stay safe in the face of a threat and protect their loved ones from injury or intimidation.
Our Krav Maga Classes offer high-energy instruction that is great for all experience levels. Join us in Ogden and learn how to overcome any attacker and combine those skills with an incredible total-body workout.
Just fill out the short form on your screen to get started today!
Why Is Krav Maga Right For You?
Originally designed as the official fighting style of the Israeli Defense Forces, Krav Maga has now been adopted around the world as one of the best ways for everyday people to defend themselves from an attack or altercation.
The skill relies on instinctual movements and powerful strikes instead of drawn-out routines and elaborate forms. At Victory Self Defense & Fitness, you can learn how to use every inch of your body to gain leverage over an opponent and maintain control in any situation.
Our Krav Maga Classes in Ogden can teach you:
Powerful strikes from any position
Boosted situational awareness
Improved reaction times to a threat
Strategies for maintaining control until help can arrive
Incredible self-confidence in any situation
PLUS, You'll Challenge Your Body Like Never Before And Walk Away With Incredible Results In No Time
We're here to help you stay safe and feel confident in your daily life. But we're also proud to offer a cutting-edge workout like few others can.
Krav Maga helps you break free from the boredom of the treadmill or your traditional group fitness class. As you learn the discipline one step at a time, you'll push your body like never before. You won't even realize how hard you're working.
Each class is different from the last, keeping you motivated to give it your all.
In just a few weeks, you'll notice:
Improved muscle tone and strength
Boosted fat burn and healthy weight loss
Incredible cardiovascular health
Better speed, agility, and athleticism
Don't Get Caught Off Guard. Join Our Krav Maga Classes In Ogden And Train With A Purpose!
If you're looking for a new routine, check us out at Victory Self Defense & Fitness. Our Krav Maga Classes have something for everyone! And if you're not interested in the group setting, ask about our Private Lessons, where you can train with complete comfort and confidence.
Just fill out the short form on your screen to learn more about everything we have to offer in Ogden.